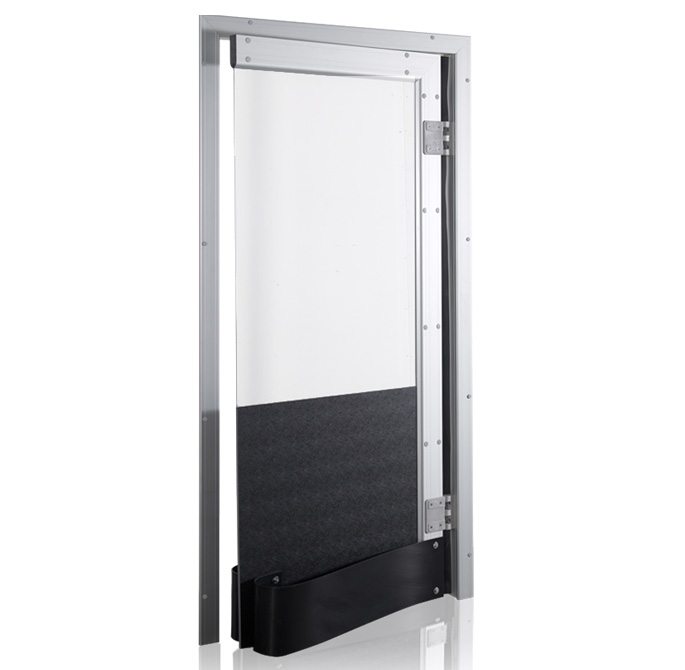 Swing door PDK
The door is normally delivered together with an aluminum frame and a polycarbonatedoor leaf. Thanks to its frame construction the door is easy and quick to install in both new and renovated buildings.
Alternatively, frames of stainless steel or painted steel can also be delivered. The door's rear edge is equipped with a squeeze protection device preventing squeeze injuries. Smooth surfaces without sharp edges allow for easier cleaning and enhanced hygiene. At the same time they reduce the risk of personal injuries and scratching of goods.
The door leaf is made of 8 mm limpid polycarbonate which is very impact resistant and hard-wearing. The protection layer is made of black grained polycarbonate and is 800 mm high.
The door is easy to open and normally has self-closing, maintenance-free hinges of polyamide with a fixed position for easier assembly.
Of course the hinges can be delivered without a fixed assembly position.
Frame
Aluminium naturally oxidised.
Case-forming assembly
PD-1, case-forming, suitable for wall thickness of 80 mm.
PD-2, case-forming, suitable for wall thickness of 70-195 mm.
Door leaf
Polycarbonate, transparent.
Thickness: 8 mm.
Standard
Polyamide swinging door hinge with 90° installation.
Polycarbonate kicking plate, grained.
Additional equipment
Stainless steel
Frame, stainless or lacquered steel
Door leaf, smoked glass
Door leaf, frame casing
Hinge joint, without installation
HD-polyethylene roll-over bar
Lockable with a solenoid lock or lock with hook bolt